What to Do When a Fire Has Left Behind Damage in Your Alexandria Property
4/18/2018 (Permalink)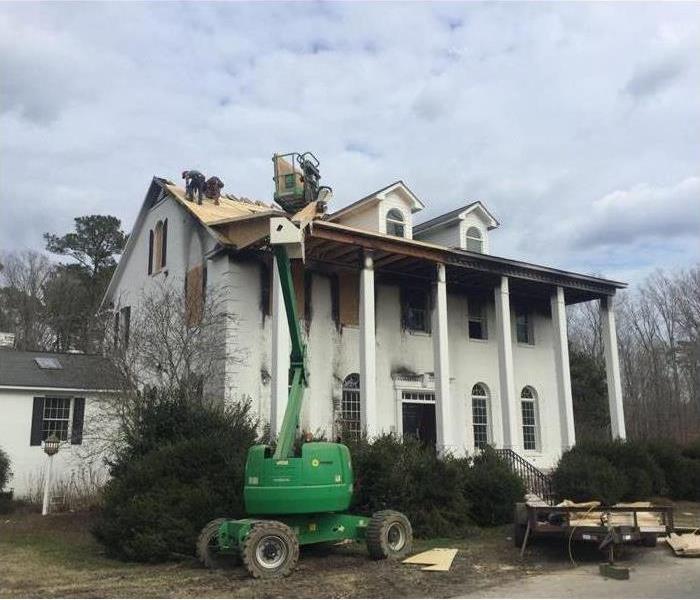 Fire and smoke can not only discolor but damage the structure of your home. Contact SERVPRO after a fire for expert remediation and clean up.
SERVPRO Technicians Employ Proper Techniques to Remediate Fire Damage in Your Home
From the first blaze onwards, the fire damage that is left behind can be dizzying. The trouble with a fire occurring is that it can cause multiple types of damage to your property and not only structural damage. While it can be overwhelming to learn that fire can cause such extensive damage, it is fortunate that help is nearby to take care of the damage for you.

We are close by, and we understand how to help. Our skilled technicians know how to identify the correct solution to the fire damage left on your Alexandria property. We arrive within hours on the scene and start the mitigation process in your home. After all, the quicker the damage is seen to might just reduce further loss and therefore the cost associated with it.

Structural damage is one of the most prominent impacts of a fire, but a less apparent effect is the extent that smoke can damage items all over your home. Smoke carries soot with it, and that soot attaches itself to everything that it can reach. It can cause an unpleasant odor, discolor your belongings, and ruin them in extreme cases. Truthfully, smoke damage can impact many of your belongings, including that of clothes, curtains, carpets, artwork, and electronics.

However, depending on the extent of the damage, our SERVPRO of Alexandria technicians might be able to restore these items by employing multiple cleaning techniques. If an item is salvageable, we can revive it through restoration, and then return it to you in its preloss condition after thorough cleaning. We can employ these same techniques to the smoke damage in your home that has left behind discoloration, odors, and greasy soot. Depending on the extent of the fire damage, SERVPRO can accomplish a successful cleaning and restoration.

If a fire occurs on your property, do not wait. 24/7, you can call SERVPRO of Alexandria at (318) 427-7511 to receive the help you need. Let us come and restore your home to its preloss condition.

Click here for more information about the city of Alexandria.